Allowing you to bring the beauty and elegance of natural stone into your hotel, bar, restaurant or luxurious home at a fraction of the weight and cost of solid stone, Lightweight Stone is the perfect solution to high end luxury interior design.
High End Luxury Interior Design
One of the most stunning ways to bring timeless style, elegance and beauty to the high end interior design of your hotel, restaurant, bar or luxury home is to incorporate natural stone into your décor.
Unfortunately, solid natural stone panels are both expensive in terms of material and installation cost and heavy – which can often prohibit their use due to buildings' load restrictions and/or budget limitations.
What's more, achieving consistency in pattern and colour/tone across large areas can be extremely difficult and the inherent fragility of stone means solid stone panels are extremely prone to cracking, chipping and other accidental damages during shipping and installation – both of which can, of course, significantly increase material costs.
Requiring special fixing methods to ensure their weight is adequately supported, solid stone panels also frequently necessitate expensive remedial/preparation work to existing surfaces. This, of course not only has the potential to cause a great deal of dust/mess but also substantially increases installation time and cost.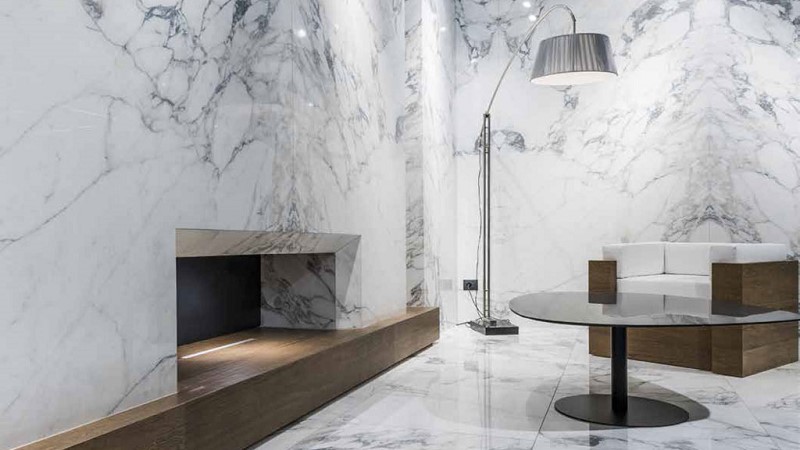 There is, however, a lighter, more cost-effective solution to transforming your premises with natural marble, granite, etc…
Lightweight Stone and High End Interior Design
Crafted by laminating a honeycomb core with a thin veneer of natural stone (typically no more than 5 mm in thickness), Lightweight Stone panels preserve the natural beauty of stone while being significantly lighter, stronger and more flexible than solid stone panels.
As stone usage is significantly reduced (a single cubic-metre of raw natural stone produces just 45 m2 of solid panels, whereas the same amount of raw stone can produce up to 135 m2 of lightweight stone panels); there is less risk of accidental damage and our panels can be attached over existing surfaces (without requiring removal/remedial work) using adhesives, both material and installation/labour costs are significantly lower compared to solid stone.
Their light weight also means our panels can be used in buildings where load limitations prohibit use of solid stone – making them the ideal solution to high end interior design projects.
Get in Touch
Lightweight, strong, highly cost-effective and available in a stunning array of gorgeous colours, patterns and finishes, Lightweight Stone panels can be fixed not only to walls and ceilings, but also to furniture, doors and work/counter tops & fronts; stud work, MDF and more – which means they are the perfect answer to turning your vision of high end luxury interior design into glorious reality.
Whether you want to transform your home, hotel, restaurant or bar with the shining beauty and timeless elegance of marble, granite or other natural stones, we have a solution to perfectly match your individual style and requirements.
Call us on: 0203 292 0616, contact us online or drop us an e-mail at: sales@lightweightstone.co.uk today to learn more/discuss your specific requirements with a member of our team.