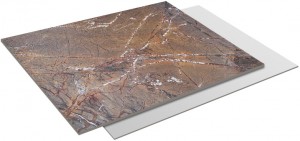 27 Apr

Polymer reinforced natural stone – Less weight, faster to install with significantly reduced in place costs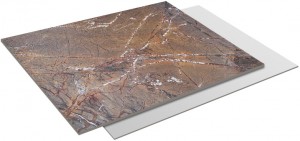 Introducing our patented polymer reinforced natural stone. Same stone, same appearance but with less weight, easy to fix and with considerably reduced in place costs compared to 2cm stone slabs.
Weighing only 13 kilo's per square metre and with a thickness of only 13mm enables our polymer backed natural stone panels to be used in a wider range of commercial applications.
Fast to install and can even be installed directly over existing finishes thereby eliminating the time and cost associated with the removal and making good of existing tiles. Our polymer reinforced panels are strong and durable and waterproof and we can supply almost any marble, granite or onyx.
This is real stone it is not reconstituted it is a real veneer of real natural stone with proven and substantial cost savings compared with 2cm slabs.